Everything you need to know about kitchen splashbacks
Personalised kitchen back walls and splashbacks, the latest trend in kitchen interior. Consider the following: you have just had a new kitchen installed in your house and you are completely satisfied. Beautiful new cabinets, a beautiful counter top, everything looks neat again. But what about the back wall? You could go for tiles again but then you have a good chance it will look old-fashioned. You will also run into the same problems with cleaning as before. Do you feel like scrubbing between all the joints again?
There is a better way, namely kitchen rear walls that consist of one piece only. So no more joints.
You can also use these aluminum kitchen rear walls in your current kitchen. This way your kitchen quickly gets a new face in one simple step. The easiest thing is that you simply stick an aluminum kitchen back wall over the tiles. So you're done in a minute.
There are quite a few advantages to think of, in this blog we list all the benefits for you.
1. All designs are possible with sublimation
You probably still think of the limitations of tiles or materials other than aluminum. For example, that only one colour is possible or only one pattern. Sublimation makes the story very different, with this technique we can put all imaginable photos, images, patterns, colours and designs on your back wall. Razor-sharp lines, amazing colours and therefore extremely realistic. Yes, you can also use your own photos or designs. They will look amazing in your kitchen as a back wall or splashback!
We can even make the aluminum kitchen back wall look like other materials that would as themselves be less suitable in the kitchen. Consider wood for example, or concrete, marble or any other natural stone. With the sublimation technique we can mimic these materials so precisely that some people only realize that it is fake when they touch the back wall or splashback.
Materials such as real wood (a real fire hazard when applied so close to a stove), concrete (difficult to clean) and marble (expensive and heavy) become a real possibility in the kitchen by choosing realistic-looking faux materials. This gives you much more freedom in designing your kitchen.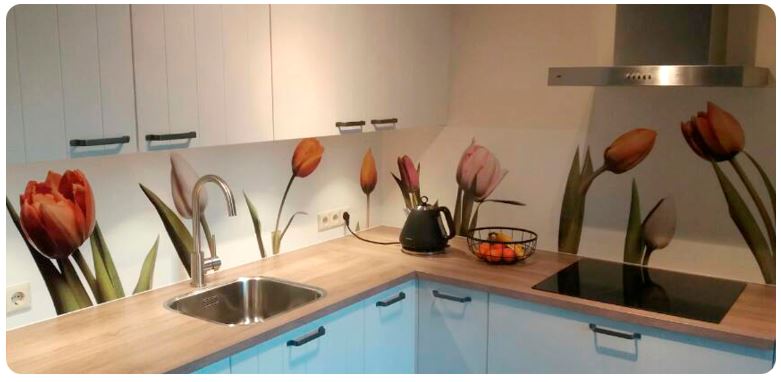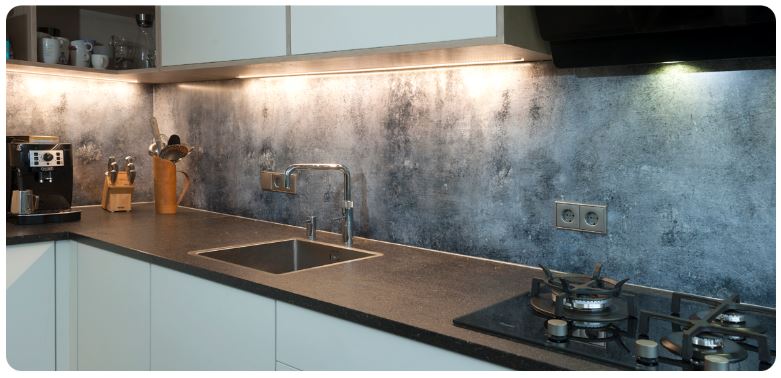 2. An aluminum kitchen back wall is super easy to clean
We first apply a special coating to the aluminum plate. It is also this layer of coating in which the sublimated image is incorporated. The advantage of this is that all possible dirt just slides off. The only thing that you really need is a clean piece of cloth and possibly some all-purpose cleaner. Take a look at the video below.
Please note that the video is in Dutch but English subtitles are available form the gear wheel menu in the bottom right of the video screen.
However, this is not the only reason that an aluminum kitchen back wall is so easy to clean. In the introduction part of this blog we already told you that the plate is 100% smooth. So no joints, slots, grooves, cracks or holes. This means that dirt, trash and rubbish can't get caught in anything. This makes your aluminum kitchen back wall super hygienic.
What you have to pay attention to, however, is that you do not use scouring pads or abrasives. You might need this for tiles, but definitely not for this material. If you do use it, you could damage the back wall or splashback.
3. Safety is important
You probably don't actually think about it a lot, but an accident can always happen. Even in your kitchen. If you use a gas stove at home, you might think of fire safety, but ceramic or induction cooking also involves hot surfaces, hot, splashing fat, boiling oil, etc.
Of course you know exactly what to do when there is a fire and won't panic. In the meantime, however, it's good that the fire can't spread. An aluminum kitchen back wall is very fire-resistant because it is a non-combustible material. During the production process, the kitchen back wall or splashback is cured in an oven of 200 degrees Celsius. A little heat is really no problem. The next video shows exactly that.
4. An aluminum kitchen back wall or splashback is very water resistant
A kitchen back wall must obviously be able to withstand water. After all, it is placed close to the sink. Fortunately, this material can handle it well. The surface is water-repellent, so the water slides off. Make sure that the bottom at the countertop is properly sealed so that no water comes between the wall and the kitchen wallpanel.
The waterproof qualities of the kitchen back wall is so good that people have even started to mount them in the bathroom. Not only above the sink but even in the shower! Not only does this look great, but the advantages regarding to cleaning also apply in the bathroom. No more scrubbing in between all those joints!
5. Easy assembly & perfectly custom made
A kitchen back wall made of aluminum is only 2 millimeters thick, which makes it strong and lightweight at the same time. The splashback is therefore very easy to lift so that you can easily get it above the countertop.
You hardly need to prepare the substrate for mounting the rear wall panel. You cannot see through the kitchen back wall, so you will not see any stains, colour differences or anything else that you leave behind it. Your wall doesn't even have to be perfectly smooth. You are dealing with a solid, 2 mm thick sheet of aluminum. So you can even leave textured paint or tiles right where they are. You just stick the wall on top of it. Do make sure that it is dust-free, clean and dry. Everything that you leave behind will soon be stuck behind the wall panel and could start to mold. Can't have that.
During the ordering proces you can already specify how large the rear wallpanel should be, we will then make it exactly to size. Your splashback will therefore fit precisely. This also applies to cutouts for wall sockets, light switches and the like. We make holes in the wallpanel at exactly the right spot so that mounting it in your kitchen is very easy.
Of course you have to measure the whole thing well. To help you with that, we have written a manual and even had a video made. Even if you are not at all handy, you can still measure the right sizes and order a beautiful back wall for your kitchen.
6. You can go wild with your creativity
We've already told you how all images can be sublimated on a back wall. If you are a little creative or have some designing talent, it is also possible to hang your own creations in the most striking place in your kitchen. Take a look at Tineke and Ad's kitchen back wall, for example. They have their daughter's design immortalized in their kitchen. We think it looks fantastic!
But that's not the only way you can showcase your creativity. The shape can also play a role. We started offering more creative shapes in March 2019. This way, a kitchen back wall becomes even more personal! You can tell us the shape you'd like! We already have a few examples of creative shapes in our collection, for example, take a look at the "SubTile" category and look for designs that have "Refined Edge" in the name. Designs with a Refined Edge have contour cuts at the top of the panel along the design of your rear wall. Super cool and super unique!
7. The best quality
A kitchen back wall of aluminum has the highest photo quality. The most beautiful colours, the sharpest lines, etc. The coating that is applied on the panels also provides it with a UV filter. This keeps the colours beautiful for a long time, even when the sun shines on it. So in a few years you won't have a discoloured, faded back wall in your kitchen. This is important to think about.
The coating on this material can be matte or glossy. Depending on your taste or the design you choose, one can be more beautiful than the other. Don't know which one to choose? Just request a sample. You will then receive a number of small sample panels at home so that you can clearly see the differences. That makes choosing a little easier.
8. Inspiration can be found everywhere
Take a look at our inspiration page to view examples of other people's kitchen splashbacks. In addition, there is of course a lot to be found on Facebook, Instagram, and Pinterest. You'll notice that these panels can not only be hung in people's homes, but also in hotels, restaurants or other companies, a beautiful kitchen rear wall fits perfectly in your interior!
9. A kitchen splashback for every budget
At Pimp Your Kitchen, aluminum is the best material available. However, if you have other wishes or a different budget, we also offer kitchen back panels made from dibond (high quality plastic) and laminated wallpaper. In this way there is a kitchen back wall for everyone.
On our website you can easily order via the configurator, where you can even create your own design without an account. You can find an explanation about the configurator here. Do you have special wishes? Send an email to info@pimpyourkitchen.nl and you will be personally helped by Jolien. She is happy to help you!